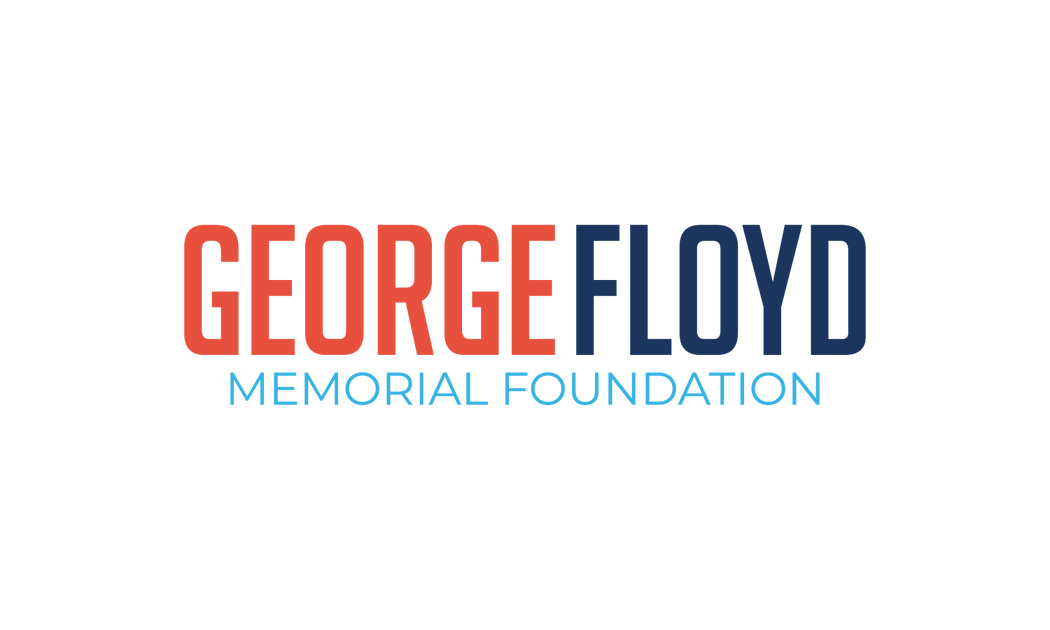 JOIN THE GEORGE FLOYD REMEMBRANCE VIRTUAL DAY OF ACTION
---
We honor George Floyd's life by uniting together to continue the fight for justice. From using your social media platforms to call for justice, contacting local officials, and supporting critical legislation, now is the time for action to create unity, hope, and progress. Here is how you can join us and take action right now:
---
DONATE
Please support our work to challenge the root causes of racial inequity and end the systemic violence affecting Black Americans. Every contribution brings us closer to realizing our vision of a just and equal society where a case like George Floyd's never happens again.Donate directly, or show your support with a George Floyd Memorial Foundation t-shirt. Proceeds fund our programs to uplift the Black community and end police brutality.
---
use your voice
Share your support for the ongoing fight for justice and spread the word about our work by posting from our Social Media Toolkit. In it, you'll find our official Remembrance video, downloadable social media infographics on how your network can take action, and suggested captions.
---
Learn more about the George Floyd Justice in Policing Act
There is currently no federal accountability or oversight over policing. This bill is a starting point for us to enact policies that:
• Limit use of force and bans no-knock warrants, chokeholds, and carotid holds;
• Establishes a national registry that compiles data about complaints and police misconduct;
• Require a reporting system of use of force, routine police practices, and officer misconduct;
• Limit qualified immunity –a legal doctrine that prevents government officials from being held liable for constitutional violations;
• Prevent racial profiling on all levels of government by requiring officers to complete training on racial profiling, implicit bias, and duty to intervene when their fellow officers are using excessive force
Learn more:
---
DEMAND POLICY CHANGE
Speak out and call on our elected officials to pass the George Floyd Justice in Policing Act.Contact your Senator by clicking the button below, then clicking on "Find Your Senators" in the top left-hand corner and click on the state you reside in - or Google your Senator's name and visiting their official website. Call the Senator's D.C. office as well as the local/district offices across your state.
CALL SCRIPT
Use this script when you contact your senator.
• Hello Senator (Last Name). My name is (First & Last Name) and I am calling from (City, State).
• Let me start by saying thank you for your dedicated service to our great state and nation.
• Today, I am calling you as a constituent to encourage you to please vote in favor of The George Floyd Justice in Policing Act.
• This legislation has the ability to help our citizens, the individuals who protect our communities, and our country at-large. The legislation is not perfect, but I think it is a great start as we seek to end unnecessary police killings and reform our criminal justice system.
• Senator (Last Name), I truly hope that you will vote in favor of House Resolution 1280. Again, thank you for your service.
---
Get Involved Locally
The fight for justice starts close to home in our own communities, as local government often directs law enforcement. If we want to see progress towards racial justice happen, we need elected officials, at every level, who represent our values. Midterm Congressional elections will be taking place next year, and state and local elections can happen throughout the year.Register to vote and find upcoming elections below. Even if you think you are registered, double-check your information to ensure it is accurate and accessible.
---
#POLICEREFORMNOW with the NAACP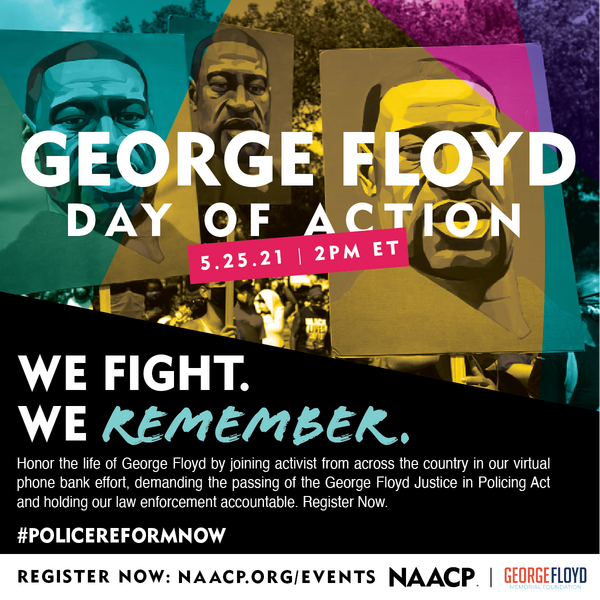 THE NAACP IS DEMANDING:
- End qualied immunity, which protects government ocials from lawsuits seeking
monetary damages
- Create a National Police Registry, that will provide transparency for the public
- Collect data on police encounters to ensure safety for our communitiesSupport below by adding your name to the petition let elected officials know #WeAreDoneDying, and sharing the NAACP's police reform graphics by using their social media toolkit.
the george floyd memorial foundation
Our mission is to amplify George Floyd's story through organized community outreach, targeted educational programs, and intentional reform initiatives. We will challenge police brutality, promote social justice, and ensure the protection of civil rights is afforded to all people.